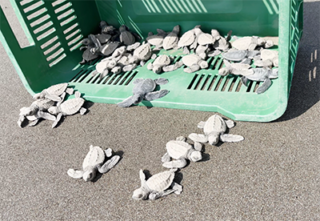 The turtle nesting season is going on NOW on the beach at Isla Damas!
July 17, 2023
This is the story
On a 4-mile, turtle nesting beach in Costa Rica, one man is on a mission to help save endangered sea turtles by protecting turtle eggs from predators and poachers. Francisco "Milo" lives on the nesting beach in Isla Damas, Costa Rica, with his wife and 2 young granddaughters. He has worked tirelessly and at his own expense for 7 years patrolling this beach at night for months on end searching for Green and Olive Ridley turtles that have come ashore to lay their eggs. He is in a constant race to get the eggs before predators and poachers.
These are the odds
Despite their protected status, approximately 75% of nests are destroyed. Turtle hatchlings already have the odds stacked against them with 1 in 1,000 reaching adulthood. When 75% of the eggs are decimated, the chance of a turtle egg hatching and surviving to adulthood is drastically reduced to 1 in 10,000. This is devastating for endangered sea turtles.
There's more to the story
Milo has built a nursery where he relocates the eggs for their 45-60 day incubation period. Upon hatching, he transfers them safely to the beach for release. He recently rebuilt his hatchery with more durable materials supplied by Fins Attached and a Costa Rican non-profit partner on this project, Kids Saving the Rainforest. He collects and saves approximately 10,000 turtle eggs each season and could save another 30,000 eggs with your help!
Help us rewrite the story
How will your donations be used to save more turtles?
Help us engage and educate local communities to aid in sea turtle protection and conservation, including educational and conservation programming targeted to poachers
Help us purchase supplies to build additional turtle nurseries
Help us purchase and maintain an ATV to help Milo patrol the beach. Turtles can come ashore anywhere along the 4-mile beach to lay their eggs and they come ashore every night throughout the months-long nesting season. The ATV will give Milo the chance to rescue up to 40,000 eggs each year!
We are inspired by Milo's passion and efforts to save the endangered sea turtles of Isla Damas!
Help us help the turtles! $50 saves two nest of up to 200 turtles!
Stay tuned for updates on our turtle rescue!